THE FanatiCs
---
Supporters backing the club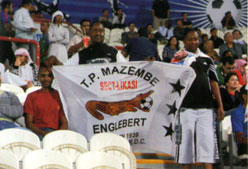 Like any club that flies its town's flag, TP Mazembe has always attracted a large number of supporters. Its successes in the 1960s under Paul Gibson's chairmanship brought Mazembe Englebert international fame and fans have considerably increased in numbers since.
Back then, the club's structures already made provision for a sports committee and a blood committee grouping the honourable members, including KIWE PAMPALA, TYPHON NTAMBWE, KAMCHAPE, MUTSHAILA and MUSUNG THARCISSE.
There was only one section of local supporters at the time, the Kenya section, headed by André TSHIPAMA, who proposed strategic aid led by Maurice RASHIDI, MWANGALA KAPEND MWADRI and TSHIMANGA KANGWALA. It worked in collaboration with the Likasi section.
Towards the 1980s, after André TSHIPAMA left, the new KATUBA section was created, led by ILUNGA KABAMBA PORTOS.
Ten years later, the movement went through another stage when Chairman Raphael KATEBE, during an extraordinary meeting aimed at organizing the team's administration and strategy, suggested the idea of creating a section of supporters in each district. New sections were indeed created but they did not bring about a specific result since they worked as separate entities. However, the ball was rolling…
It was in 1999, under the impulse of Chairman Moïse KATUMBI CHAPWE, that the idea of creating a structure capable of coordinating all the sections' actions came about. That was how the « coordination structure » was created, led successively by President MEMA MUYAMPE, DEKA KABNIT, CHEIK MOHAMED, DONY KABONGO, KISTY, CHEIKH MOHAMED, GUILLAUME BIGOBO and CHEIK MOHAMED.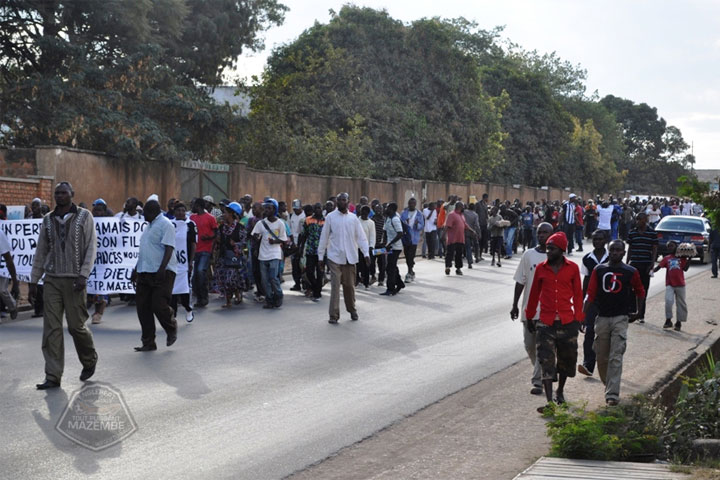 The movement was now better organized than ever, even if there was still a lot to do. The coordination certainly intends to keep improving, using the work of the following sections in Lubumbashi:
- KAMPEMBA section: President José KAHITE, Vice president Didier KAUB, Secretary Jean-Louis MBUYI KABEYA ;
- KAMALONDO section: President Cheik MOHAMED, Vice president KIKI KAFUMBILA, Secretary Jean-Paul KAKOKO TSHIBWIL ;
- LUBUMBASHI section: President Idris KADIMA, Vice president Arthur TSHITA, Secretary Luc MUKENGE KAZADI ;
- MZEE MARKET section: President Dony KABONGO, Vice president KALALA, Secretary Emmanuel ILUNGA ;
- KENYA section: President Patrice KITWA, Vice president Jerome KALUMBU, Secretary SANDRA ;
- KATUBA section: President Bertin MPUMINA BUSAMBU, Vice president MUTONKOLE, Secretary Jean P. MBUYAMBA ;
- KALEBUKA section: President Armand KAYIJ–A–KAMB, Vice president MUJINGA NGOYI, Secretary Gaspar MWANDWE ;
- RUASHI section: President KADAKU, Vice president Baudouin KASONGO, Secretary MAFEFE ;
- KATCO section: President Jeannot KABAMBA, Vice president Venant LUPAKA, Secretary Justin NYEMBO MASHINI ;
- SNCC section: President Gabriel KILICHO LWAMBA, Vice president Baudouin KALUBI, Secretary KISIMBA MBUYU ;
- NJANJA section: President Guillaume BIGOBO, Vice president Jean KINKAMBA, Secretary Alexis KYANSA ;
- KIPUSHI Section: President KADIMA ;
- As well as the UNILU, Luano Airport, LIKASI, KAPOLOPWE, KOLWEZI, KASUMBALESA and KAMBOVE sections…
The Fanatics have set a certain number of rules to establish a real « supporter culture », such as unconditional support of the club whatever the results, loving the colors, public awareness and mobilization. They have also condemned destructive practices with regard to the technical staff and encouraged the development of constructive criticism.
In and around the capital of Katanga, members try to bring the club multi-directional support, through supervision of the committee, the staff and the players. That implies assistance on a social level which can be extended to the families of players when they are away from home. There is also a communication role in conveying messages from the club's management to the supporter base.
One can only wish this organization all the best in fulfilling its mission in the best possible way for the club.
Coordination of Lubumbashi
A new team took control of the coordination of TPM supporters. Conducted by Dony KABONGO, this new committee is based on sections of the city of Lubumbashi, and had the green light from the managing staff to supervise all supporters of TPM... Elected for a term of one year, the new coordination of sections of our supporters was installed Friday, March 8, 2013 at the headquarters of the club by the secretary Jean NGOYI SENDWE.
President Dony KABONGO and his committee are responsible for informing TPM supporters all kinds of practical aspects, but also what is permitted and prohibited. A great mission of supervision to be accomplished.
Composition of committee
President: Dony KABONGO / Mzee Market
Vice president: José KAHITE NYEMBO / Kampemba
Secretary: Gabriel KILICHO LWAMBA / SNCC
Assistant Secretary: Blaise RUGUSHA / UNILU
Treasurer: Patrice KITWA / Kenya
1st Advisor: Idris KADIMA / Town Center
2nd Advisor: Guillaume BIGOBO / Njanja Market
3rd Advisor: Cheik SIDI / Kamalondo
4th Advisor: Sébastien KAMB / Ruashi
New staff to coordinate supporters
A few months before the end of his term, Dony KABONGO was promoted as the club secretary and left vacant his position as chairman of the coordination of supporters, temporary Mario KAWEL ensuring the transition. Sunday, January 19, 2014, it was time to organize a meeting to establish a new committee. It is in peacefulness of the Futuka farm at about thirty kilometers from Lubumbashi that the sectional (supervisors of supporters in the club) had set an appointment to elect their new leaders.
Secretary Dony KABONGO, Jean-Paul KAKOKO and Maurice RASHIDI, the oldest among the members of the coordination, formed the electoral commission and set up a voting proportional list of representation. Each presidential candidate to present a list of future employees that will be voted. One application was submitted to the secretariat of the club with in top of the list Mario KAWEL.
59 members of the Assembly have expressed their confidence to manage the future of coordination by voting unanimously for a term of 3 years.
The new head of the coordination committee is formed as follows:
President: Mario KAWEL
1st vice president: José KAHITE NYEMBO
2nd vice president: Cheik Mohamed
3rd vice president: Khiller MUBAMBE (Likasi)
Secretary: Gabriel KILITSHO MWAMBA
Assistant Secretary: Alphonse KALINDULA
Treasurer: Patrice KITWA
Members Advisors: Guillaume BIGOBO, Sébastien KAMBA, Idriss KADIMA, Bertin MPUMINA KABAMBA